One platform for everything
Built for speed, performance, and a seamless investing experience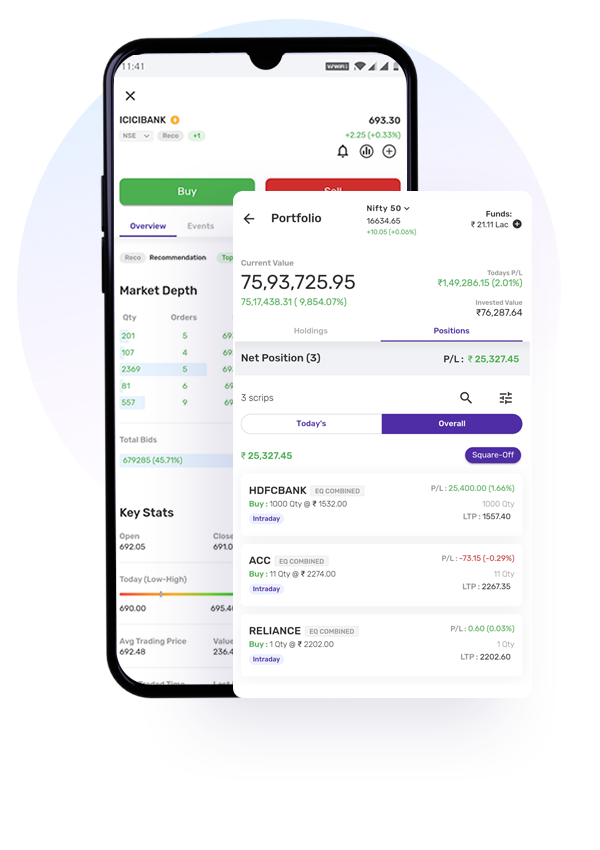 1
Automated KYC onboarding
Secure and superfast online onboarding process
Watchlist to assist with decision making
A watchlist that provides information on fingertips to invest better
All new market section
Take a look at what's happening in the broader market before you trade
Comprehensive order book
Get an in-depth view of orders to check execution details, timestamp, number of trades & more
Insightful portfolio
To provide a single-window view of your P&L, holdings & positions
Plan long term investments with ETFs
Sensex ETFs

Gold ETFs

Pharma ETFs
Banks ETFs

Nifty ETFs
Bonds ETFs
IT ETFs
Infra ETFs
Initial public offerings (IPOs)
Invest in valuable upcoming or existing companies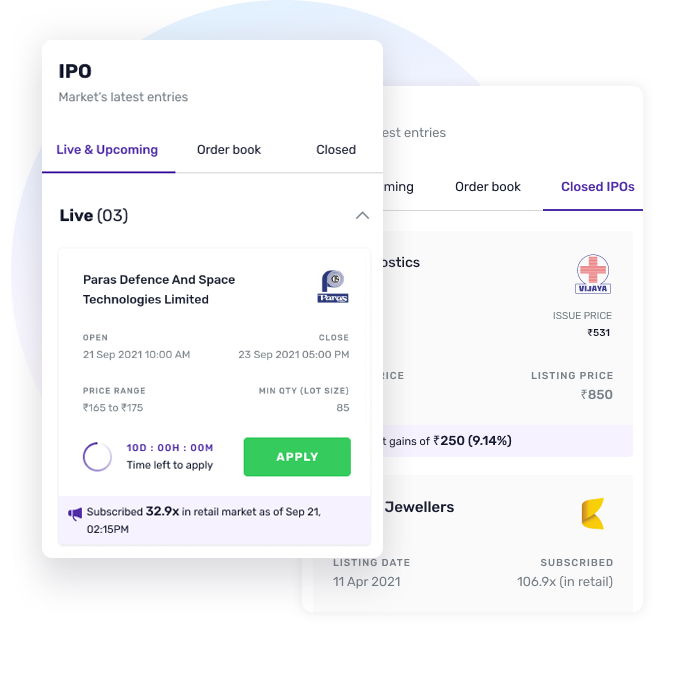 Apply for IPOs for a chance to own the shares of upcoming companies right from their first listing. Get detailed information on the latest IPOs, allotment status, subscription figures, company financials & more
Pricing
Maximise your returns with a flat fee on trades. No other hidden charges. We focus on your returns
₹299
Account Opening
₹299 Account opening charges.
₹0
Demat AMC
₹0 for the First Year and ₹299 from the second year onwards
₹20
Brokerage
Flat ₹20 for Delivery, Intraday, Futures & Options, and Currency Derivatives
CDSL e-Voting
e-Voting is voting through an electronic system on resolutions of company requiring members/shareholder's consent. The need for e-Voting arises when a company wishes to pass a resolution by Postal Ballot or Annual General Meeting or Extraordinary General Meeting.
Click here for CDSL e-Voting
Click here for NSDL e-Voting