Passive investing
means zero stress
Do you find investment decisions daunting?
It means super savings, zero
commission, low transaction fees
Impossible? Let's see the difference
& maximum returns on your
investments
Quick Fact - NIFTY index has outperformed 90% of the large cap funds over a 4-year cycle.
Don't believe? See the results
helps you pick
the right funds
Research Driven Selection
Relax, while your
money works for you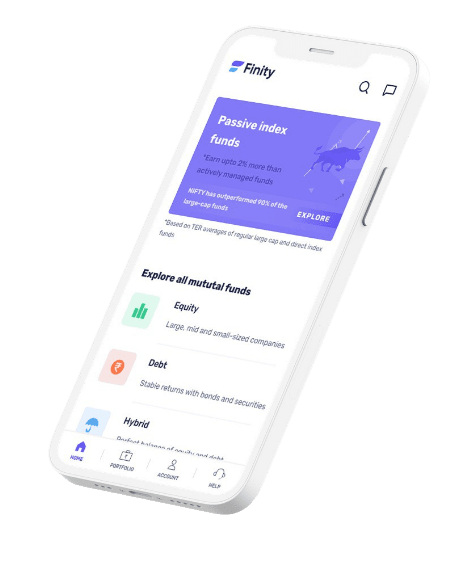 Still have questions?
Our happy customers will tell you more...

It is simple and easy to invest in. I invested in first SIP on digital investment app on finity. The experience so far has been very great. The purchase was immediate and I got the emails with the details soon after. Now I can track my find investments on the app itself. Very happy with the finity app.

This is really great app. Changed the future of thousands of families. Mutual fund investments are too complicated but finity make us a very clean route to invest , and create wealth in a very easy way. Thanks finity for giving us to invest in mutual fund in direct plan.

Neat, simplified, beneficial. Very clean UI, makes it easy for first timers. It prompts you as and when you need to get certain things done within the app. Very motivating for first time investors as it simplifies the process. The cleanest app that I have come across for starting SIPs in Mutual Fund.

The app is so excellent and handy that you can take any mutual funds detailed information on your finger tips and invest in it. And also they have excellent support facility for any modifications like sip date change or sip increase or decrease facility.

I'm a first-time investor, and I could not have asked for a better app than this. The app in itself is a clean, super smooth process; and most importantly: personalized support available through office hours. I've had the support team go out of their way to help me out.

Best app for direct MF investment. It gives category wise top performing funds which clears doubt and help to make right decision to select fund to invest.

As I am new to mutual fund investments and I am looking for a platform where I can invest smoothly and get my queries answered. So after trying multiple platforms like groww, zerodha I found Finity app is very useful. I would highly recommend this app to all the users.

It's very simple and easy to invest in mutual fund direct plans. I have invested in SIP on a digital investment app on Finity. The experience so far with Finity is great and I loved that. The purchase was immediate and I got the emails with all the details.